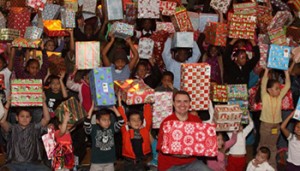 We have seen some of the most needy children break free from the cycle of poverty, academic failure and addictive life-styles, becoming fulfilled in Jesus Christ. Children we have worked with are now grown and working along with us in their own neighborhoods. Some are in college, and others are married and are raising their children on a solid foundation. As a financial partner, you are right there with us as we love, support and equip each child that comes our way.
Your financial investment enables us to:
• Share the message of the Gospel of Jesus Christ and God's gift of eternal life
• Develop spiritual leaders through hands-on internship opportunities
• Reach children and their families with the Gospel with our street ministry
• Provide after-school tutoring and mentoring
• Make backpacks and school supplies available for hundreds of kids
• Host summer day camps and summer feeding programs
• Give Christmas gifts to needy children
• Supply food and clothing in emergency situations
Join the growing number of people who have found the special joy of reaching children for Christ. Partner with us!